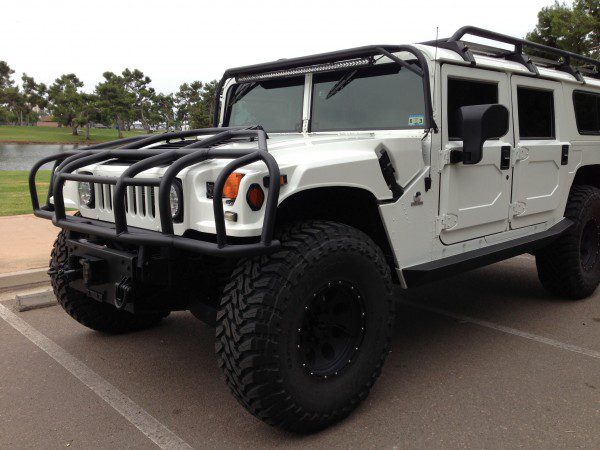 OVER $80,000 in receipts  on top of the price of the hummer this motor has more than double the power of the factory motor.
-Cummins Conversion,6BT 24 Valve-Bio-Diesel Fuel Lines-Heavy Duty Performance Transmission-6.5L 4L80E W/PATC locking Torque Converter- rated at 1500 ft lbs of torque Aluminum Radiator-Performance schwitzer BigTurbo-Tuner-High Flow Injectors-Injection Pump-FASS high performance fuel pump ISO-Willwood Big Brake Upgrade Kit- LED Marker Lights-Removable Cat Pipe-Trek-R Wheel Kit inc. Hub Adapter-Bumper Ladder System- search and rescue roof rack system,8″ 3w LEDs-2001+ Electric Mirrors-Search and Rescue Fender Well Racks-third row seating-Cepek Manual Adj. Shock Set of 4-FLIR night vision System W/ Bracket and 10.2″ LCD Screen-Custom Screen Location replace sun visor-Custom Fiberglass Monitor Mount Drivers Side-10.2″ Monitor Custom Mounted into Dog House for DVD-Install Pioneer 2 Din Head unit/XM/Reverse Cam-Low Profile 9′ Roof Rack -Tie Rod*Left Rear Outer*Right Front Inner*Right Front Outer-Ball Joint- Left Rear Upper-Star Seal-Spindle Seal-S/S Custom Line-CTIS System W/ Labor-CTIS Adapter-3" body lift-Tie Rod/Ball Joint/CTIS System-17″ Mud Terrain Tire/Wheel Package- Black Min Tex Powdercoat-Speakers Clarion 5 1/4″ 150 Watt-Toggle Switch-Pioneer 2 Din DVD nav-system Avic-Z110BT-XO Vision HTC-200 Rear View Camera-AVH-P3100DVD- IPod Cable-Pioneer Sirius CD-SB10-Kicker amp and custom kicker sub box-Window Tinting- 15% All around-Pioneer Sirius Car Antenna-96-03 Knee Panel Upgrade- Covered in Black-Paint and Body Work- Bright White-Level Two-Wagon and Slant Back Sound Deadening-LED Headlights-Carbon Seat Heaters-12,100 LB Half shaft Upgrade Kit-40″ toyo open country tires, predator heavy duty d ring brush guard-warn 12k winch. heavy duty light bar with low profile rigid industries led light bar, heavy duty rock rails.
Interior Restoration-(4) Seats Covered/New Padding/Install Seat Heaters-Dog House/ Rear A/C Vent/ Dash Pads-100% Black Leather-(4) Door Panels 100% Black Leather-Headliners- Black Suede-Repair and Dye Interior Plastic Parts- Black and installed sound proofing (dynomat)-(4) Passenger Seating Area- 100% Leather-Predator Logo Embroidered on Seat Back 4 Seats Black Leather W/ Black Suede InsertsMUCH MUCH MOREBody has 57200 miles on it total and the conversion has just over 7,000 miles on it.